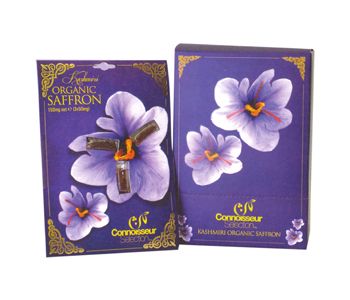 Lunn Certified Kashmiri Safron Blister 150g.
AUTHENTIC KASHMIRI SAFFRON-Kashmiri Saffron is derived from the Stigmas of the flower Crocus sativus located in the Kashmir Region.Kashmiri Saffron is of the best quality because of the Agro climate in valley which gives a deep marron color.Darker the Color,better the quality.Whatever may be the truth,saffron is a much sought after ingredient and kashmiri saffron is the best and most expensive in the World due to the Origin and Quality offered.
Usage: Daily cooking
Special Price
฿195.00
Regular Price
฿295.00
HIGHER MINERAL CONTENT: Lunn Kashmiri saffron is a good source of minerals that contain important minerals such as potassium,calcium,magnesium,phosphorus,iron,zinc,sodium,selenium and manganese.Also has Amount of Vitamins A, B, C which are important for Body,Boosting and Improving Immune system. Again Vitamin B is good for Strong teeth,hair,Skin and Bones.

INCREDIBLY VERSATILE-Saffron Has a Multiple uses with respect to Health benefits and Taste.Saffron is used as a spice, flavoring agent ,Yellow food coloring and For Rich Garnishing.In manufacturing, saffron extracts are used as fragrance in perfumes and as a dye for cloth.

CERTIFIED PACKAGING-Easy dispensation thanks to our vacuum packed sealed air-tight glass bottle. A little Kashmir Saffron goes a long way!

ALL ABOUT NATURAL SAFFRON-Indian-administered Kashmir is known for its high-quality saffron, a spice derived from the crocus flower.Saffron known as Kesar has Healthy as well as Essence Benefits. It is One of the Purest Brand,Unrefined and Unprocess which result into pure form of natural flavor and Colors.The spice is used extensively in cooking in Kashmir and all over the World.It is world's most expensive spice is harvested.
More Information

| | |
| --- | --- |
| Country of Origin | Thailand |