Breakfast
Banana & cinnamon porridge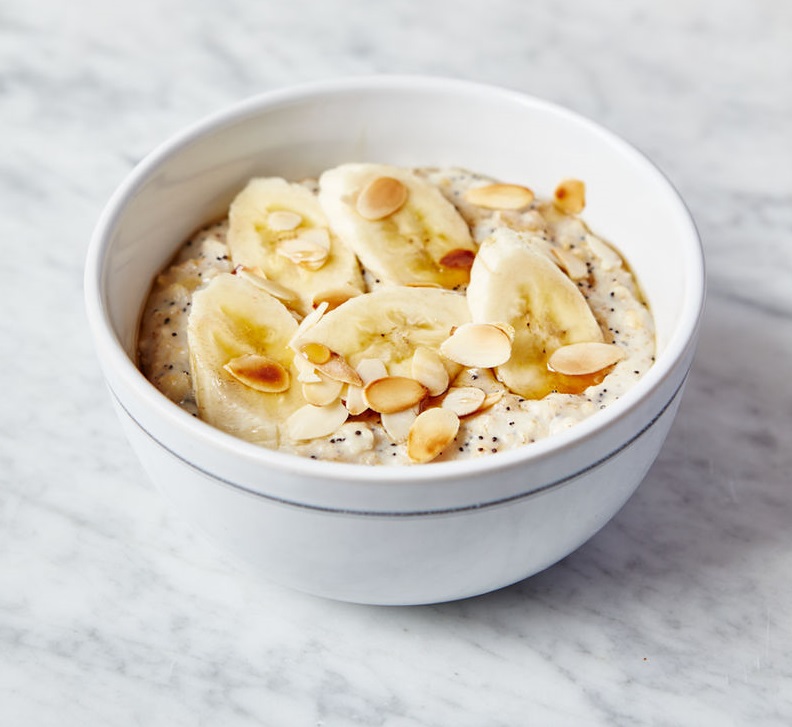 Ingredients
160 g rolled oats
600 ml milk or organic soya milk
2 ripe bananas
30 g flaked almonds
½ teaspoon ground cinnamon
2 tablespoons poppy seeds
maple syrup or runny honey
How to cook
For the basic porridge, place the oats and the milk (or 600ml water) into a large pan over a medium heat, and add a tiny pinch of sea salt.
Bring to a steady simmer for 5 to 6 minutes, stirring often to give you a smooth, creamy porridge, and loosening with extra milk, if needed.
Serve as is, or while it's blipping away in the pan, follow the next steps to prepare the banana and cinnamon topping.
Peel and slice the bananas at an angle.
Toast the almonds in a dry non-stick frying pan over a medium heat for 3 to 4 minutes, or until lightly golden.
Stir the cinnamon, poppy seeds and a little maple syrup or honey through the porridge, then divide between bowls.
Scatter the bananas and almonds on top, then drizzle with a little extra maple syrup or honey, if you like.
Lunch
Blue cheese & apple burger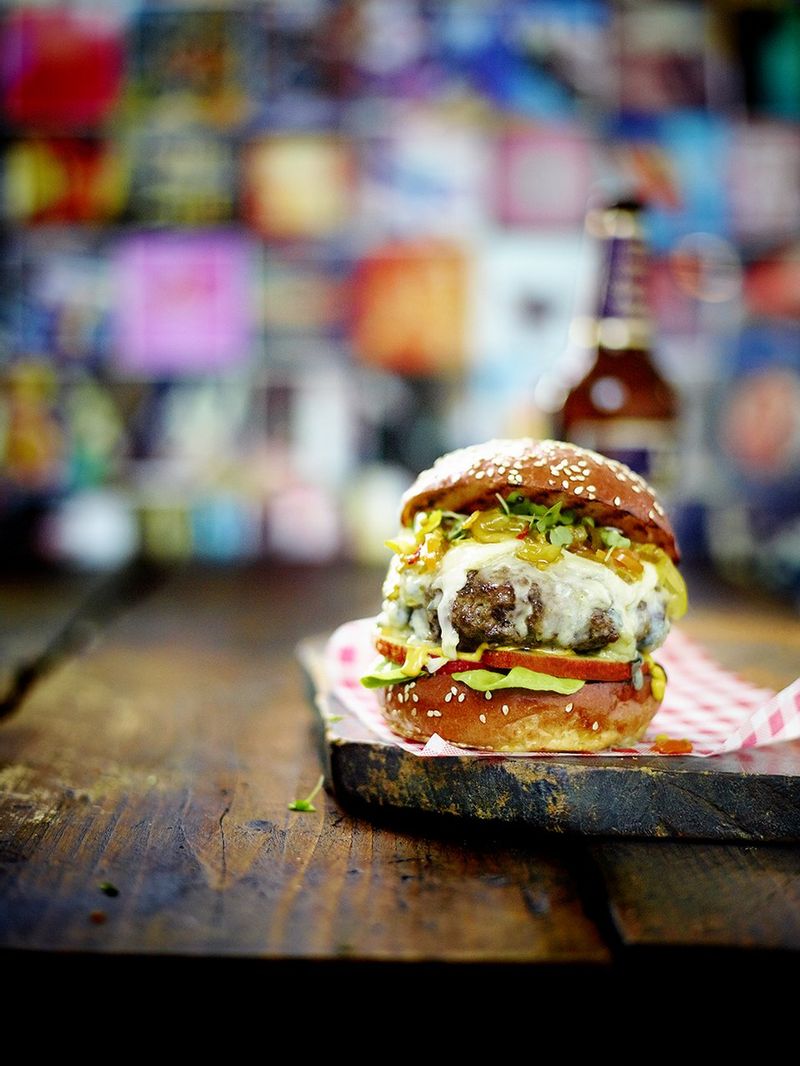 Ingredients
750 g quality minced chuck steak (see tip)
1 soft round lettuce
1 punnet of cress
2 Braeburn or Cox apples
120 g blue cheese
olive oil
6 burger buns
American mustard
How to cook
Make the burgers at least an hour before you want to cook them. Divide the mince into 4 portions and work each ball in your hands for a few minutes to melt the fat and mould them into a relatively smooth, round patty. Make them slightly bigger than your bun, as they will shrink when cooked.
Pop them on a tray, cover with clingfilm and chill in the fridge.
When you're ready to cook your burgers, get your toppings ready. Pick off, wash and spin dry the lettuce leaves, cut your cress, slice the apples, crumble the blue cheese into chunks, and leave everything to one side.
Preheat your grill to high. Pop a large non-stick frying pan over a medium heat and add a drizzle of oil to the pan.
Fry the burgers for around 4 minutes on each side if you like them pink in the middle, or longer if you prefer them fully cooked, seasoning the patties with black pepper as you cook them.
Halve and toast the buns under the grill or on a hot griddle, then line them up on a board ready to go.
When the burgers are cooked, top each with the blue cheese and pop under the grill for a couple of minutes until nice and oozy.
Now build your burgers. First layer the salad leaves and apple onto the buns, followed by a good drizzle of mustard.
Pop the burgers on, and top with the cress (a cucumber and chilli relish is great here too). Squish the bun tops on and serve straight away.
Dinner
Black & blushing Worcestershire fillet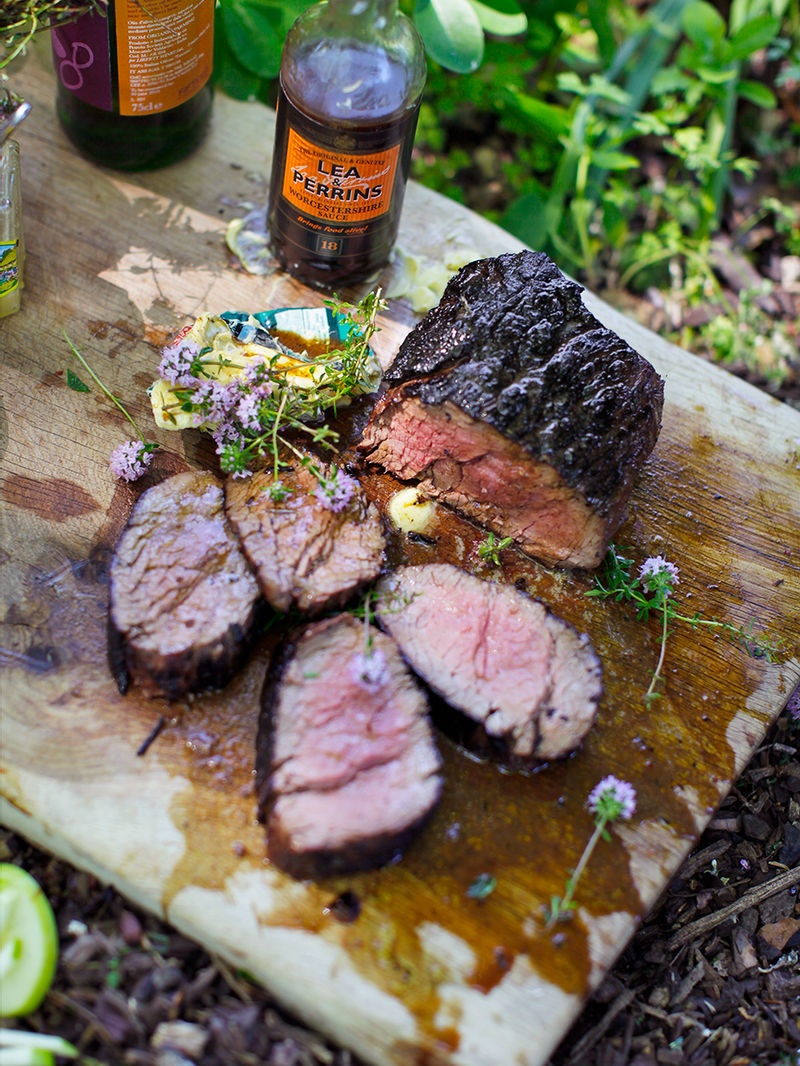 Ingredients
600-700 piece of fillet steak
2 heaped teaspoons French mustard
8-10 tablespoons Worcestershire sauce , plus extra for drizzling
a good drizzle of extra virgin olive oil , plus extra to serve
2 sprigs of fresh rosemary
TO COOK
unsalted butter
olive oil
thyme and rosemary flowers , optional
How to cook
The day before, or at least a few hours before cooking, put all the ingredients in a large sandwich bag (pick and finely chop the rosemary first).
Squeeze out the air then spend a few minutes massaging all the flavours into the meat. Put in the fridge for a few hours or overnight.
About 1½ hours before you're ready to cook, remove the beef from the fridge and place in a cool corner of the kitchen to come up slowly to room temperature.
Preheat your barbecue. Put a few knobs of chilled butter into a bowl of cold water and take those outside with you when you're ready to cook.
This next bit is going to be down to you and your intuition. What works for me every time is taking the fillet out of the bag, quickly patting it with kitchen paper then rolling it in olive oil and putting it on the hottest part of the barbecue to give it colour. Rub it with a chilled knob of butter as you cook it for about 8 to 10 minutes, turning every minute.

Once it looks good, move the fillet to a cooler part of the barbecue to finish cooking to your liking. Another 4 to 5 minutes, turning every minute, should give you medium-done meat. If you like it medium rare, cook it for less, or more for well done. It's better to err on the side of under-done. That way, the worst-case scenario is that you take the fillet off, slice into it and find that it's under-cooked, then have to put it back.
When you're happy, put it on a platter, rub it again with butter so it really shines, then drizzle over more Worcestershire sauce, extra virgin olive oil, and thyme and rosemary flowers, if you have them.
Let the meat rest for a few minutes, before slicing at the table. Season from a height then quickly rub the slices in the juices before you let everyone grab some.
half; add to slow cooker, making sure to cover with sauce mixture. Cover and cook on low until meat is tender, 6-8 hours. If desired, top with chopped fresh parsley.