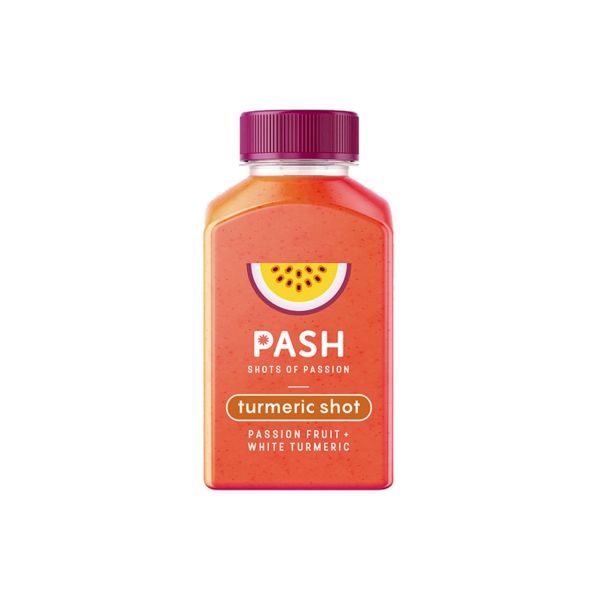 Availability:
5000

in stock
White turmeric, passion fruit, and pineapple (125ml)
Strengthening your internal organs
Improve your brain functionality
Lower your cancer risk from curcumin (active ingredient from Turmeric)
Note: Our packaging sizes are 12bottles  package, you can order total amount of 12 bottles for the optimum shipping cost
ช็อตขมิ้นขาวผสมสับปะรด, เสาวรส
คุณสมบัติ
บำรุงอวัยวะภายในหลายส่วน
เพิ่มประสิทธิภาพการทำงานของสมอง
ลดความเสี่ยงของการเกิดมะเร็งบางชนิด
การสั่งซื้อ: แพคเกจกล่องของเราบรรจุได้ 12ขวด, เพื่อความคุ้มค่าสูงสุด เราจึงแนะนำการสั่งรวมยอด 12ขวด
   Our shot idea coming from using herb ingredients with a purpose of getting the best way possible for you to absorb nutrients
   Turmeric, dramatically increase your antioxidant level, improve brain function, and so many other details that study have proven recently. This herb pack in our juice shot, will be an absolute option for healthy and tasty drink!
HPP Technology let you preserve our drink by 45days in the refridgerator.
Chemical free, water free, we're using in house test method to ensure the best for our consumer.
Cold-chained processing, Keeping our juices in perfect condition in every dimention

100% Natural, Cold pressed juice 
Nutritional value
Taste
Color
Scent
    Handle with care
Finished our drink once you open the bottle within 2day.
Last 4-5 hour within ambient temparture
Shake well!
    ช็อตขมิ้นขาว หนึ่งในสามช็อตที่ออกแบบมาเพื่อ จุดประสงค์การบำรุงร่างกาย, ด้วยส่วนประกอบของขมิ้นที่เข้มข้น
    ขมิ้นขาวเป็นที่นิยมมากขึ้นในต่างประเทศและถูกหยิบขึ้นมาใช้ปรุงอาหารอย่างแพร่หลาย หลังจากมีการพิสูจน์ถึงคุณสมบัติทานด้านการลดความเสี่ยงของการเกิดมะเร็งบางประเภท
เก็บรักษาได้ 45วันในตู้เย็น ด้วยเทคโนโลยีฆ่าเชื้อด้วยแรงดัน
ปราศจากสารเคมี, ไร้การเจือปนของน้ำและสารแต่งเติมอื่นใด
ผลิตด้วยขบวนการควบคุมความเย็นทั้งระบบ จึงแน่ใจได้ว่าคุณค่าทางโภชนาการถูกเก็บรักษาไว้อย่างดี
การเก็บรักษา
เมื่อเปิดขวดควรรับประทานให้หมดภายใน 2วัน
อยู่ในอุณหภูมิภายนอกตู้เย็นได้เป็นเวลา 4-5 ชั่วโมง
เขย่าขวดก่อนดื่ม (การตกตะกอน เป็นธรรมชาติของน้ำผลไม้ 100%)
More Information

| | |
| --- | --- |
| Country of Origin | Thailand |