Breakfast
Hollandaise sauce
Ingredients
2 large free-range egg yolks
1 dessert spoon white wine vinegar
1 lemon
Ingredients
Get a saucepan and a heatproof mixing bowl that will sit stably over the pan. Half-fill the pan with water and bring to a simmer. Turn down the heat as low as it can go but still have the water simmering.
Place the butter in a medium pan over a low heat, so it starts to melt but doesn't burn. When the butter has melted, take it off the heat.
Place the egg yolks in your heatproof mixing bowl, which you should then place over the pan of just-simmering water. It's important that the saucepan is on a low heat, or the eggs will scramble.
Using a balloon whisk, start to beat your eggs, then whisk in your white wine vinegar.
Keep whisking, and then start adding the melted butter by slowly drizzling it in, whisking all the time, till all the butter has been incorporated. The result should be a lovely, smooth, thick sauce.
Season carefully with sea salt and black pepper, and loosen if necessary with little squeezes of lemon juice. Keep tasting the sauce until the flavour is to your liking.
Lunch
Crispy duck with fire-roasted plum sauce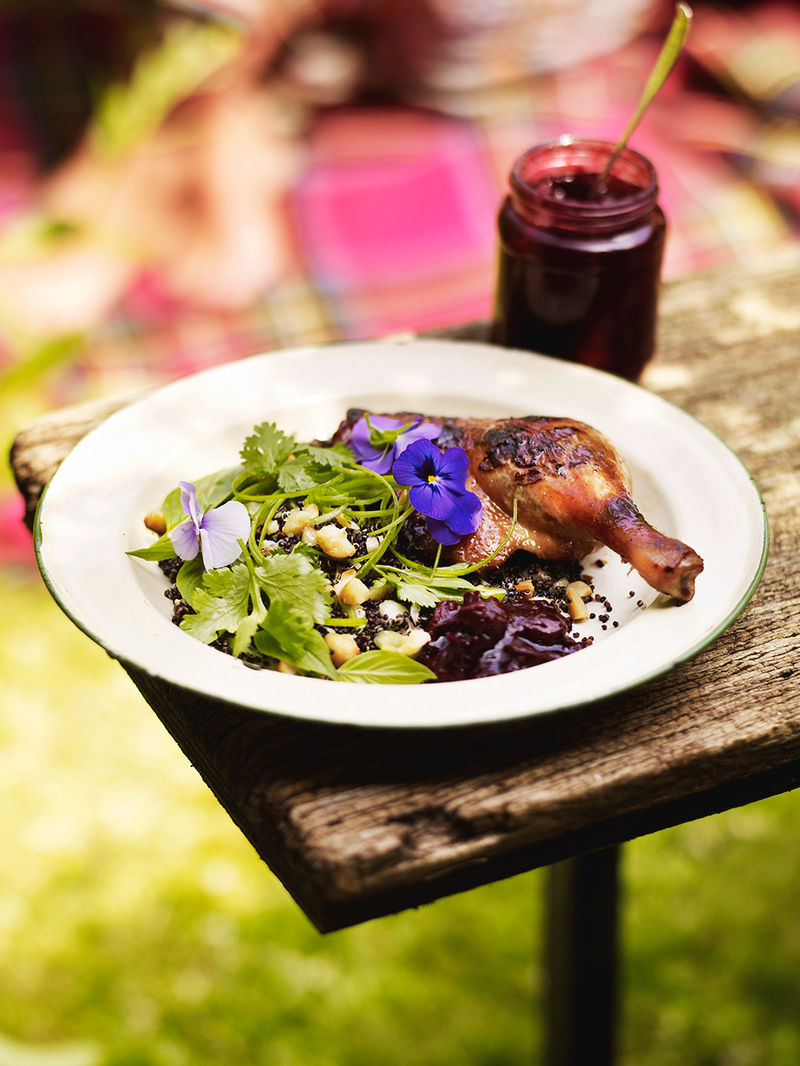 Ingredients
4 x 220 g duck legs
MARINADE
2 star anise
1 stick of cinnamon
2 tablespoons runny honey
4 tablespoons low-salt soy sauce
1 tablespoon sesame oil
FIRE-ROASTED PLUM SAUCE
6 ripe, juicy plums
3 tablespoons brown sugar , plus extra to taste
1 star anise
BLACK QUINOA & MACADAMIA SALAD
150 g black quinoa (or white or red)
100 g macadamia nuts
½ a bunch of fresh Thai basil
½ a bunch of fresh coriander
4 spring onions
1 tablespoon rice wine vinegar
1 tablespoon runny honey
2 tablespoons low-salt soy sauce
1 tablespoon sesame oil
How to cook
The day before you're ready to cook, pop all of the marinade ingredients into a dish, add the duck legs, turn them to coat, then cover with clingfilm and chill in the fridge until needed.
To cook the quinoa, place into a saucepan, cover with 450ml water, add a large pinch of sea salt and bring it to the boil.
Cover and simmer for 20 minutes, until the quinoa has unfurled but still retains a bit of crunch.
To make the plum sauce, set a griddle pan over a high heat. Halve, destone and pop the plums in a bowl and sprinkle 1 tablespoon of the sugar over the cut sides.
Griddle them for 2 minutes on each side, or until slightly charred and very soft.
Return the plums to the bowl with the rest of the sugar and mash, then add the star anise and set aside (if your plums aren't soft enough to mash, pop them in a pan over a low heat and simmer them with the star anise, a splash of water and a little extra sugar to taste, stirring until they collapse into a sauce). Set aside.
To cook the duck, remove the legs from the marinade (reserve this) and pop them onto a griddle pan to cook very slowly over a medium-low heat for 40 minutes, until the meat is tender with a crisp skin, turning often and brushing with the reserved marinade.
Drain the quinoa and set aside. Toast the nuts in a dry frying pan, then roughly crush. Pick and roughly chop the herb leaves. Slice the white and pale green parts of the spring onions, then shred the green part.
Stir most of the crushed macadamias and herbs through the quinoa (reserving some to serve) with the white and pale green chopped spring onions and rice wine vinegar, as well as the honey, soy and oil.
Serve the duck with the quinoa salad and fire-roasted plum sauce, with the shredded spring onion greens and reserved macadamias and herbs sprinkled on top. Finish with a few edible flowers, if you have them.
Dinner
Cast-Iron Skillet Steak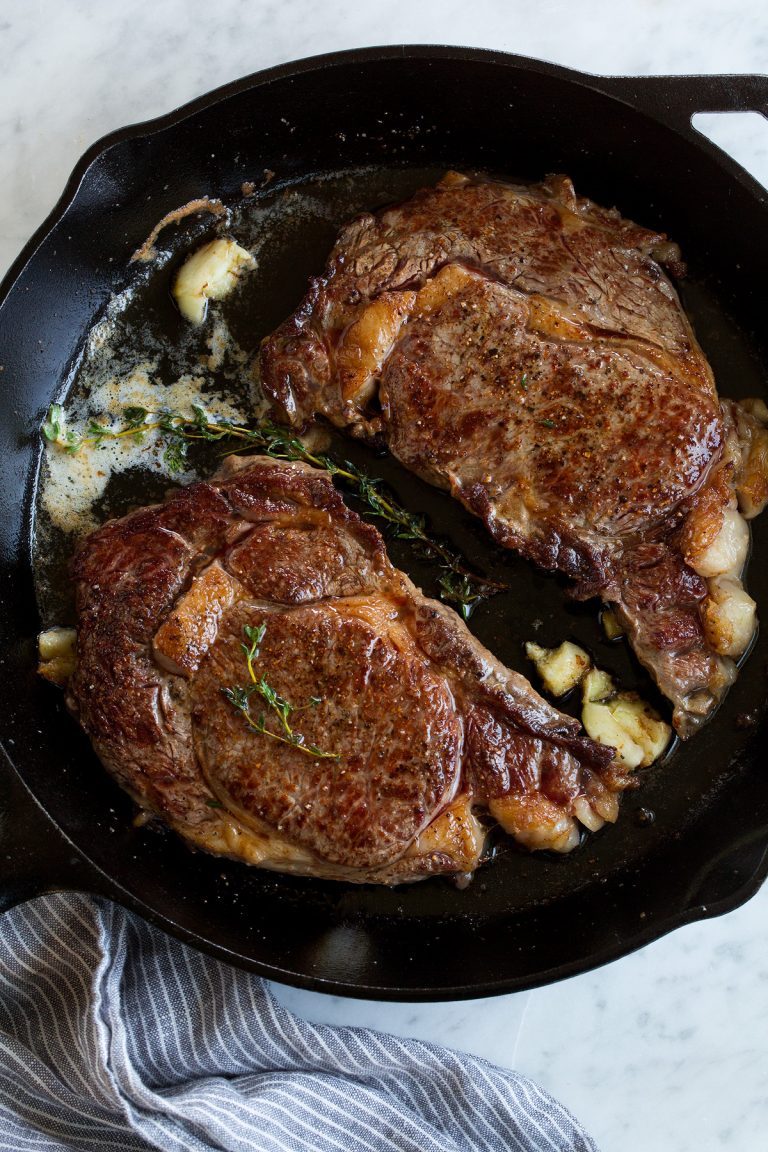 Ingredients
3 teaspoons kosher salt, divided
How to cook
Remove steak from refrigerator and sprinkle with 2 teaspoons salt; let stand 45-60 minutes.
Preheat a cast-iron skillet over high heat until extremely hot, 4-5 minutes. Sprinkle remaining 1 teaspoon salt in bottom of skillet; pat beef dry with paper towels. Place steak in skillet and cook until easily moved, 1-2 minutes; flip, placing steak in a different section of the skillet. Cook 30 seconds and then begin moving steak, occasionally pressing slightly to ensure even contact with skillet.
Continue turning and flipping until cooked to desired degree of doneness (for medium-rare, a thermometer should read 135°; medium, 140°; medium-well, 145°), 1-2 minutes.