Breakfast
Sausage and Egg Casserole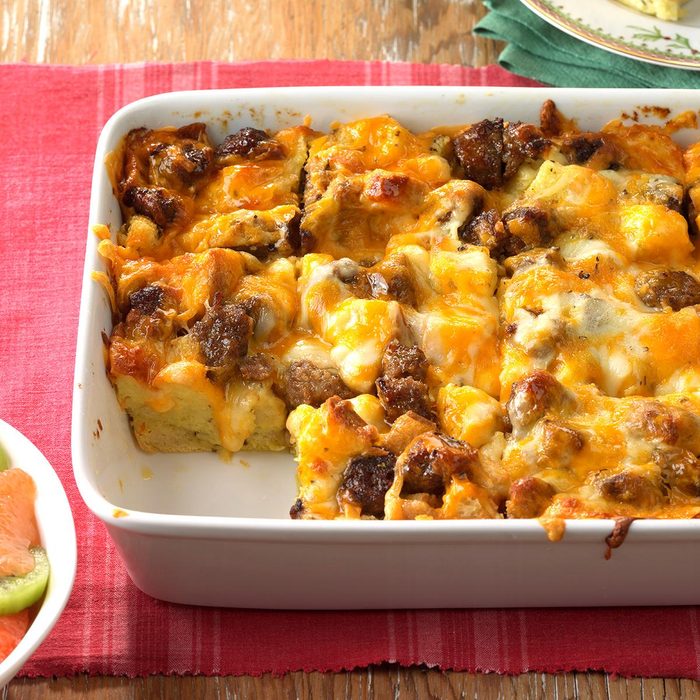 Ingredients
6 large eggs
1 teaspoon ground mustard
6 slices white bread, cut into 1/2-inch cubes
2 cups 2% milk
1 cup shredded cheddar cheese
1 teaspoon salt
How to cook
In a skillet, brown and crumble sausage; drain and set aside. In a large bowl, beat eggs; add milk, salt and mustard. Stir in bread cubes, cheese and sausage.
Pour into a greased 11x7-in. baking dish. Cover and refrigerate for 8 hours or overnight. Remove from the refrigerator 30 minutes before baking. Bake, uncovered, at 350° for 40 minutes or until a knife inserted in center comes out clean.
Lunch
Crispy garlicky chicken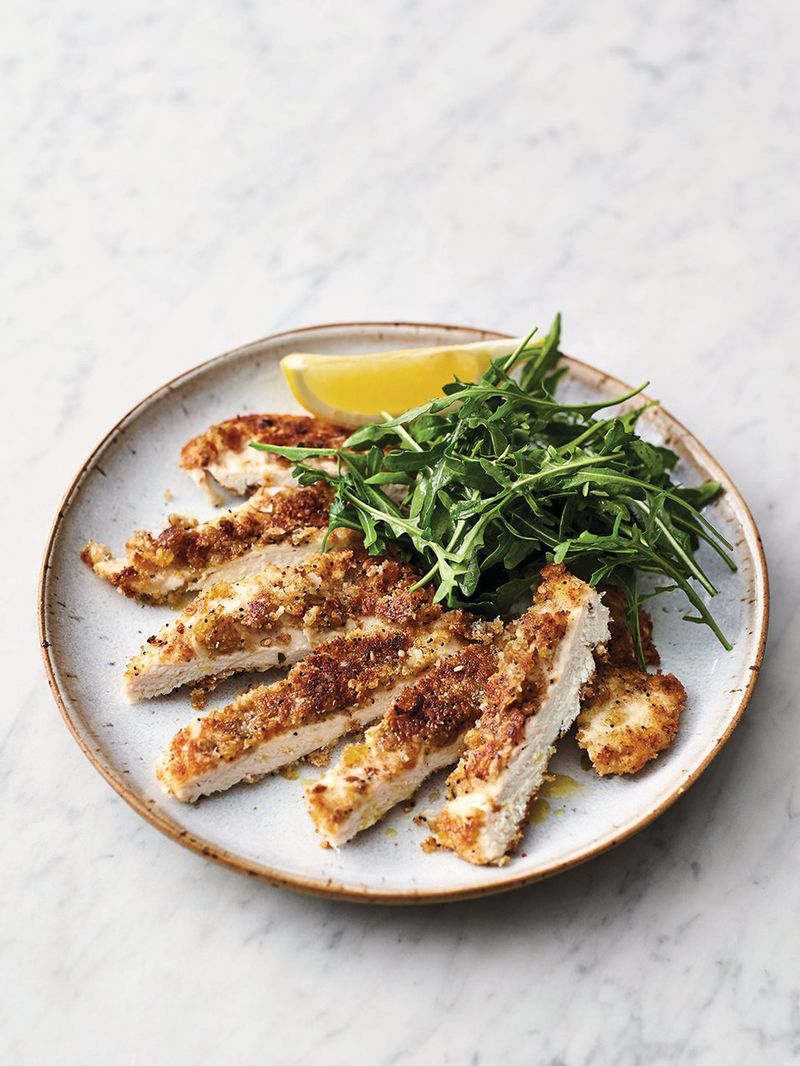 Ingredients
2 thick slices of seeded wholemeal bread , (75g each)
1 clove of garlic
1 lemon
50 g rocket
How to cook
Place the chicken breasts between two large sheets of greaseproof paper, and whack with the base of a large non-stick frying pan to flatten them to about 1cm thick.
Tear the bread into a food processor, then peel, chop and add the garlic, and blitz into fairly fine crumbs.
Pour the crumbs over the chicken, roughly pat on to each side, then re-cover with the paper and whack again, to hammer the crumbs into the chicken and flatten them further.
Put the pan on a medium heat. Fry the crumbed chicken in 1 tablespoon of olive oil for 3 minutes on each side, or until crisp, golden and cooked through.
Slice, plate up, season to perfection with sea salt and black pepper, sprinkle with lemon-dressed rocket, and serve with lemon wedges, for squeezing over.
Dinner
Sizzling sirloin
Ingredients
300 g sirloin steak , (ideally 1.5cm thick)
2 cloves of garlic
300 g ripe mixed-colour cherry tomatoes
½ a bunch of fresh basil , (15g)
How to cook
Prick the aubergines, then microwave in a covered bowl on high for 10 minutes, or until soft.
Meanwhile, pull the fat off the sirloin and place the fat in a large cold non-stick frying pan.
Put on a medium-high heat to render as it heats up, moving it around to coat the pan, while you cut off the sinew, then rub the steak with a pinch of sea salt and black pepper.
Peel and finely slice the garlic, and halve the tomatoes.
Sear the steak in the hot pan for 2 minutes on each side for medium, or to your liking, then remove to a plate to rest, discarding the piece of fat.
Sprinkle the garlic straight into the pan. Discard the aubergine stalks, chop up the flesh and add to the pan with any tasty juices, then toss in the tomatoes for 2 minutes.
Tear in most of the basil leaves, stir in 1 tablespoon of red wine vinegar, taste and season to perfection, and plate up.
Slice the steak, place on top, pick over the remaining basil, then drizzle with 1 teaspoon of extra virgin olive oil and the resting juices.