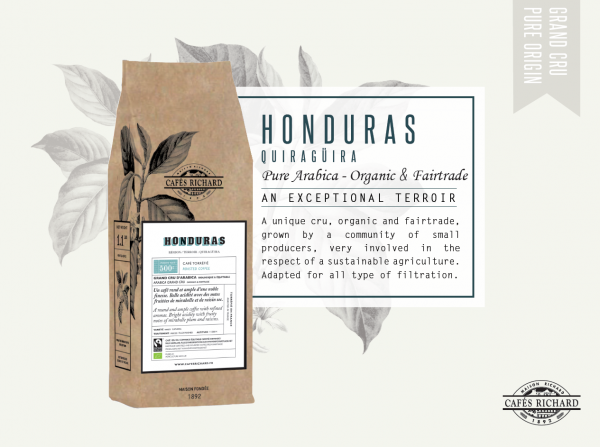 Cafés Richard Honduras Arabica Coffee Beans เมล็ดกาแฟฮอนดูรัส อาราบิก้า100%จากCafés Richard
Availability:
Out of stock
SKU
CR_Arabica - Honduras
เมล็ดกาแฟอาราบิก้า100%นำเข้าจากประเทศฝรั่งเศส
สัมผัสรสหอมนุ่มระดับพรีเมี่ยมกับเมล็ดกาแฟอาราบิก้าคั่วจากCafés Richard
**สินค้ามีอายุเก็บประมาณ1-3เดือน
Honduras - เมล็ดกาแฟสุดเอกลักษณ์ที่ปลูกในชุมชนเล็กๆแต่สามารถปรับตัวและเติบโตได้อย่างดี เมล็ดกาแฟออแกนิคนี้สามารถตอบโจทย์สำหรับคุณได้ทุกรูปแบบ
Cafés Richard is part of the French tradition of artisan coffee roasters. Selection of green coffee beans, traceability, a rigorous process to transform the raw material, and numerous checks are all part of our work as a coffee roaster and creator of flavours with sophisticated, in-depth expertise.
Each horeca establishment has its own profile, so there is a coffee solution for each one. That's why, as a central player in the coffee business, we are pleased to help and advise you on the best solution to choose. This is a decisive choice that will enable you to propose day after day a premium quality coffee.
More Information

| | |
| --- | --- |
| Country of Origin | - |