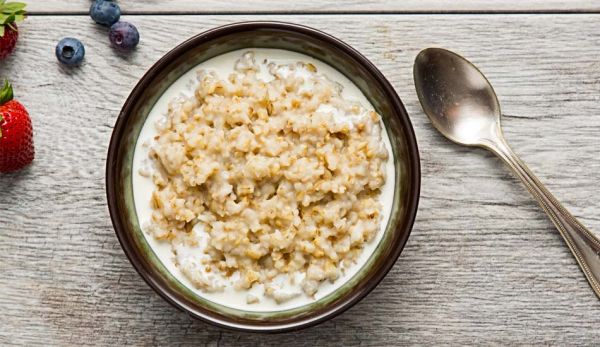 Coconut Oatmeal & Chia Seeds (โอ๊ตมีลมะพร้าวกับเมล็ดเชีย)
Coconut Oatmeal & Chia Seeds (โอ๊ตมีลมะพร้าวกับเมล็ดเชีย) 
Preparation instructions after thawing :
Put the coconut oatmeal into a bowl. Use a whisk or fork to stir well till oats and coconut milk become thick and creamy. Serve cold with fresh fruits or granola on top.
How to store products : Keep frozen at –18 °C in the frozen compartment in a refrigerator
How to thaw products : Thaw products overnight in the cooling compartment at 4-5 °C in a refrigerator.
* Not recomend to refreeze products after thawing.
* Shelf life after thawing : 7 days in a sealed pouch
ผลิตด้วยเทคโนโลยี ซูวี (Sous-Vide) ระดับเวิลด์คลาส เพื่อเก็บคุณค่าทางอาหาร ให้คุณประหยัดเวลา สะดวก ลดขั้นตอนการเตรียม สามารถสร้างสรรค์มื้ออาหารสุดพิเศษของคุณและครอบครัวได้เองที่บ้าน
วิธีการเตรียมก่อนเสิร์ฟ :
1.นำโอ๊ตมีลออกจากถุง ใส่ภาชนะ และใช้ส้อมหรือตะกร้อ ตีให้เนื้อโอ๊ตมีลและกะทิเข้ากัน
2.ตีจนโอ๊ตมีลฟูขึ้น แล้วจัดลงถ้วยเสิร์ฟ
ข้อแนะนำ : ทานคู่กับกราโนล่า / ผลไม้สด
วิธีการเก็บรักษา : Frozen -18'C หรือ ช่องเก็บฟรีซตู้เย็นบ้าน 
วิธีการทำละลาย : Thaw product overnight in the cooler at 5'c
* สินค้าทุกตัวแนะนำให้ทำละลายในตู้เย็น 1 คืน อุณหภูมิ 4-5 องศา
* เมื่อทำละลายสินค้าแล้ว ไม่ควรนำกลับไปแช่แข็งอีก
More Information

| | |
| --- | --- |
| Country of Origin | Thailand |