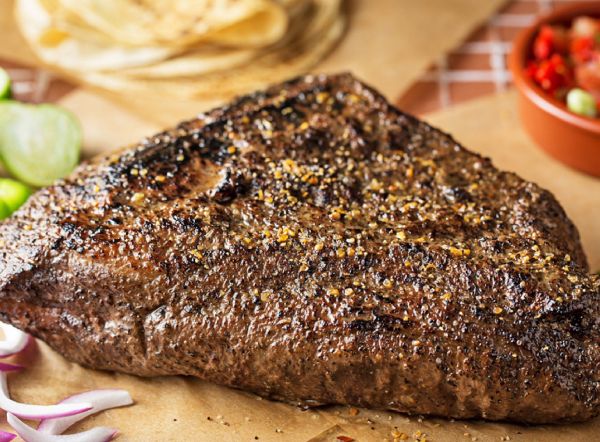 72Hrs. Beef Short Ribs Black Angus (เนื้อสันส่วนซี่โครง Sous Vide 72ชม.)
72 Hrs. Sous-Vide Seared Beef Short Ribs (เนื้อสันส่วนซี่โครงซูวี 72 ชั่วโมง)
2,800 .- / 1 kg.


USDA Prime Black Angus Short Ribs Sous-Vide for 72 hours.

Reheat instructions after thawing :
1. Reheat it in the oven at 200 °C for 8-10 minutes
2. On medium high heat, pan sear it for about 20 seconds on each side.
3. Add butter, thyme and garlic clove for aromatic taste
4. Place the meat on the side and rest it for 3-5 minutes then cut and serve.
Recommended Side dish : Mashed potato, Ratatouille, Red Wine Sauce, Thai Spicy Jaew Sauce
How to store products: Keep frozen at –18 °C in the frozen compartment in a refrigerator
How to thaw products : Thaw products overnight in the cooling compartment at 4-5 °C in a refrigerator.
* Not recomend to refreeze products after thawing.
* Shelf life after thawing : 7 days in a sealed pouch
จากวัวสายพันธุ์ Black Angus, Grain Fed, นำเข้าจากสหัฐอเมริกา ปรุงสุกด้วยเทคโนโลยี Sous Vide (ซู-วี) ระดับเวิลด์คลาส นาน 72 ชม. เพื่อเก็บคุณค่าทางอาหารและคงความสด นุ่ม ชุ่มฉ่ำ ให้คุณประหยัดเวลา สะดวก ลดขั้นตอนการเตรียม สามารถสร้างสรรค์มื้ออาหารสุดพิเศษของคุณและครอบครัวได้เองที่บ้าน
ราคาต่อกิโลกรัม : 2,800 .- / 1 kg.
วิธีการอุ่นก่อนเสิร์ฟ :
1.เข้าเตาอบที่อุณหภูมิ 200 องศา 8-10 นาที (ขึ้นอยู่กับความหนาของเนื้อ)
2.ตั้งกระทะไฟกลาง ใช้น้ำมัน/เนยจืด นำเนื้อนาบลงบนกระทะ ด้านละ 20 วินาที
3.สามารถใส่สมุนไพร เช่น ไทม์ โรสแมรี่ และ กระเทียมทุบ เพื่อเพิ่มกลิ่นหอม
4.นำเนื้อขึ้นจากกระทะ พักไว้ 3-5 นาที แล้วจึงหั่นเสิร์ฟ จัดลงจาน
ข้อแนะนำ : ทานคู่กับมันฝรั่งบด / ผัดผักรวม / ซอสไวน์แดง / น้ำจิ้มแจ่ว
วิธีการเก็บรักษา : Frozen -18'C หรือ ช่องเก็บฟรีซตู้เย็นบ้าน
วิธีการทำละลาย : Thaw product overnight in the cooler at 5'c
* สินค้าทุกตัวแนะนำให้ทำละลายในตู้เย็น 1 คืน อุณหภูมิ 4-5 องศา
* เมื่อทำละลายสินค้าแล้ว ไม่ควรนำกลับไปแช่แข็งอีก
More Information

| | |
| --- | --- |
| Country of Origin | USA |