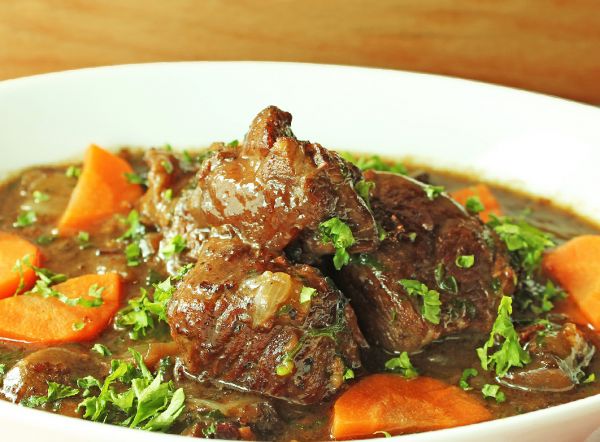 Beef Bourguignon (สตูเนื้อน่องลายซอสไวน์แดง)
Availability:
15

in stock
Beef Bourguignon Sous-Vide (สตูว์เนื้อซูวี)
Reheat instructions after thawing :
Cut the pouch and pour stew into a small pot on the stove. Add 1 shot of red wine and heat it till it gets hot then serve. Garnish it with chopped parsley on top. 
Recommended side dish : Fettuccine Pasta
How to store products : Keep frozen at –18 °C in the frozen compartment in a refrigerator
How to thaw products : Thaw products overnight in the cooling compartment at 4-5 °C in a refrigerator.
* Not recomended to refreeze products after thawing.
* Shelf life after thawing : 7 days in a sealed pouch
สตูว์เนื้อ ปรุงสุกด้วยเทคโนโลยี ซูวี (Sous-Vide) ระดับเวิลด์คลาส เพื่อเก็บคุณค่าทางอาหาร ให้คุณประหยัดเวลา สะดวก ลดขั้นตอนการเตรียม สามารถสร้างสรรค์มื้ออาหารสุดพิเศษของคุณและครอบครัวได้เองที่บ้าน
ขนาด/น้ำหนัก: 280-300 กรัม
วิธีการอุ่นก่อนเสิร์ฟ :
1.นำสตูว์ออกจานถุง ตั้งลงบนหม้อ ใส่ไวน์แดง 1 ชอท เคี่ยวให้เดือด
2.จัดลงจาน โรยด้วยพาสลี่ย์สับเล็กน้อย
ข้อแนะนำ : ทานคู่กับพาสต้าเส้นเฟตตูชินี่
วิธีการเก็บรักษา : Frozen -18'C หรือ ช่องเก็บฟรีซตู้เย็นบ้าน 
วิธีการทำละลาย : Thaw product overnight in the cooler at 5'c
* สินค้าทุกตัวแนะนำให้ทำละลายในตู้เย็น 1 คืน อุณหภูมิ 4-5 องศา
* เมื่อทำละลายสินค้าแล้ว ไม่ควรนำกลับไปแช่แข็งอีก
More Information

| | |
| --- | --- |
| Country of Origin | Thailand |